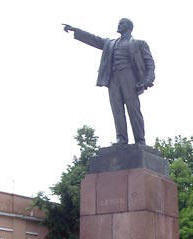 Editorial Comment: The Herald campaigns for Sydney as East Berlin
August 2005
The New City is struck by the increasingly narrow focus of the Fairfax newspapers, beholden to a white-collar, professional, inner-suburban market segment. Hence our apprehension on learning of the Sydney Morning Herald's 'Campaign for Sydney'.
Our fears were quickly realised. Apparently Sydney's problems ("The Sydney Horror Show") are reducible to the prospect of environmental catastrophe. "Sydney is a sprawling, gridlocked, polluted mess", blared the opening headline on 30 May. It is hardly reasonable to fling accusations of greed at a socio-economically diverse city like Sydney, but the Herald's urban affairs writers were not deterred. "Sydney cannot continue living, consuming and travelling in the same greedy, unsustainable way", wailed Darren Goodsir and Tim Dick as they raged against the world.
While the campaign proceeded to lay out a series of impeccably Green-Left positions on issues ranging from public transport to water resources, the target of the Herald's anger was soon unmasked: greedy suburban consumers who underwrite the capitalist economy.
The Herald, together with its preferred inner-city demographic, is obsessed by the subject of public transport, particularly rail. This comes as no surprise. ABS analysis of the 2001 census found "inner-city suburbs, with ready access to various forms of public transport, also showed very high incidence of this method of transport" (Sydney: A Social Atlas, ABS, 2002). But if you thought the logical conclusion should be greater attention to the under-serviced west, think again. At least seven of the campaign's fourteen days were devoted to transport infrastructure, but the Herald endorsed just two major projects for the deprived outer western suburbs – extension of the north-west line to Rouse Hill and the south-west line to Leppington.
Now consider what the Herald has in mind for the inner city: a new underground "heavy rail" line from Central to four new city stations and onto a second cross-harbour tunnel to St Leonards; another heavy line from Sydenham to Randwick, Kingsford, NSW University and Bondi Junction; a new "metro-rail" line from the north shore to the city, and to Haymarket, Glebe, Sydney University, Newtown, Enmore and Sydenham; yet another metro-rail line from Drummoyne to Balmain, Pyrmont and eventually on to Maroubra; and a network of "light-rail" lines radiating from the CBD to the inner-west through Lilyfield to Burwood and east down Oxford Street to Surry Hills, Paddington and again to Bondi Junction. The latter, incidentally, is a big tick for Clover Moore's $1.6 billion yuppie carousel.
There's more. Along with a free set of steak-knives, inner-city trendoids get two very long tunnels (on the M4 East route) starting at the Anzac Bridge and Marrickville to swallow noisy freight trucks from the ports.
Too much is never enough for the Herald's favourite people.
The campaign argued for upgraded transport infrastructure on environmental grounds. Commuters must be lured away from their cars to reduce polluting exhaust emissions. That this problem should warrant a public transport bonanza for the inner city goes without saying. Yet many of the Herald's assumptions about car and public transport use are flawed.
According to the NSW Transport and Population Data Centre (TPDC), a number of social, economic and demographic factors are contributing to the rise in private vehicle use ("car mania", as the Herald calls it). These include the growing number of female caregivers in part-time and casual employment, improvements in labour force participation, the expanding cohort of people aged over fifty-five, rising disposable incomes and economic prosperity (Car Travel in Sydney: Changes in the Last Decade, TPDC, March 2005). Whether better transport services can outweigh these factors is open to question.
Further, the Herald's methods of paying for the bonanza are inconsistent with the objective of attracting more commuters to trains. Public transport and rail in particular have long been a drain on state treasuries. Poor cost recovery from rail services contributed to the fiscal crisis of state governments in the late 1980s. Some governments "rationalised" their rail networks and launched major road projects like Sydney's orbital motorway. Of course, the NSW Government operates a state-wide system. The state covers a large land mass with a dispersed settlement pattern and low population density. Hence the problem persists. Railcorp recovers only 27 per cent of running costs, and a recent Productivity Commission report found that rail corporations average a 21 per cent negative return on equity (Financial Performance of Government Trading Enterprises 1999-00 to 2003-04, July 2005).
The Herald thinks there's a simple solution. Just raise fares and borrow more. "People will pay more for good, fast services", wrote Goodsir and Joseph Kerr on 7 June. But developments cited in the TPDC report raise serious doubts about this.
Goodsir and Kerr also float the possibility of tax incentives for public transport users, a regressive idea in equity terms since access to services is unequal between the inner and outer suburbs (which the Herald's program would exacerbate).
South-west Sydney does have a serious air quality problem, and the campaign rightly addressed this on 30 May. However, the accompanying graphic and text, drawn from Department of Environment data, suggest that reducing car use may not be the answer. According to the graphic, vehicle emissions are transported offshore by early morning air flows from the mountains. At around midday northeast breezes carry the plume back across the Sydney basin. By night this can be trapped in low-lying areas adjacent to the Blue Mountains, such as the south-western suburbs. Arguably, that region will always be subject to concentrated emissions even if the original sources are diffuse.
For this reason, introduction of world's best practice on vehicle emission controls, like Euro IV and V standards, offers more hope of a solution. Many western cities enjoy cleaner air today thanks to technological innovations. As the "sceptical environmentalist" Bjorn Lomborg points out, "the rich world is dealing with many of its environmental problems because it can afford to" (Australian Financial Review, 22 July 2005).
The Herald is none-too-keen on technological solutions, however. Greedy suburban consumers are let off the hook too easily. For instance, the proposed desalination plant is subjected to a regular bucketing – "because it would discourage water saving" – and "debating the merits of uranium-derived power" is out of order. It's all about stomping on consumption.
This is why the environmental movement resorts to creeping authoritarianism and the Herald tags along. On 4 June, Dick proposed the concept of "abuser pays". In full punitive mode, he thought "abusers should pay for using more energy, water or land, for creating more pollution and for insisting on driving when public transport offers a viable alternative". If the Herald has its way, Sydneysiders will be subjected to a new category of offences: green crime. Perhaps "abusers" should be declared "enemies of the people" and sentenced to detention. To make matters worse, the paper wants to introduce a "democratic deficit" into the city's administration. The failure of local councils to implement a city-wide agenda is properly noted, but Dick proceeds on 10 June to assert the state government can't be trusted either. He conjures up "a half-way house" alternative, an unelected "Commission for Sydney". The commissioners would be "independent" permanent appointments. Abusers can run, but they can't hide.
At the same time, consumers are to be bludgeoned with the weapon of higher charges. "Use less, pay more" was the Orwellian headline on 13 June, but Matt Wade spelled it out three days earlier. On 10 June he announced "inflation and interest rates are low and stable, providing a solid economic foundation for new public investment". Without acknowledging how these benign conditions were achieved, Wade calls for "sensible" – meaning higher – transport, water and power charges to pay for the Herald's extravagant plans. As he puts it, "when the right price signals are sent to consumers, the infrastructure built to serve them will be more likely to go in the right places and help to deliver an economic rate of return". Wade stumbles into pseudo-economics. Genuine price signals emerge from the interaction of supply and demand. What Wade is pushing amounts to the imposition of an arbitrary tariff to suppress demand. This is not so much a "signal" as heavy-handed regulation with serious consequences for living standards and economic activity.
Along with higher charges, Wade recommends increased public borrowing to meet the campaign's "price tag". But he seems to have missed something. Lower government sector debt and lower state utility charges, thanks to difficult reforms dismantling monopolies and cross-subsidies, have contributed to the low interest and inflation rates that he celebrates. Talk about slaughtering the golden goose.
The campaign spared little sympathy for the likely victims of its attack on economic development. Sydney's most vulnerable people live beyond the Herald's horizon. "The highest concentrations of blue-collar workers occurred in the western suburbs of Sydney, stretching from the Canterbury region out to Blacktown in the west and to Campbelltown in the outer south-west", according to the 2001 census. Of course, white-collar workers are another matter. "Sydney is the nation's undisputed white-collar capital", wrote Wade on 6 June. That's why Goodsir's and Dick's 6 June blueprint for the city's development focuses on "central Sydney and surrounds". Their plan is to "re-emphasise regional dominance through upgrading transport access and prioritising a clear growth path" [emphasis added]. For his part, Wade wants to "invigorate Sydney's crucial white-collar jobs market". Apparently, more consumption by inner-suburban white-collar workers isn't such a problem.
Not for the Herald calls to promote socio-economic diversity by attracting knowledge-intensive jobs to western Sydney, as authoritative reports like FutureWest (Western Sydney Regional Organisation of Councils) and Sydney's Economic Geography (SGS) recommend. The inner suburbs, including the so-called global arc corridor, are Sydney's white-collar heartland, and that's that.
Blue-collar and "pink-collar" (female-dominated routine service industry) battlers can eat cake. The Herald is strangely muted about persisting pockets of high unemployment and family breakdown in the west. Don't mention Macquarie Fields. Suburban employment only rated a mention in the environmental context of lowering car use. On 6 June Goodsir and Dick called for suburban jobs to be concentrated in "centres" accessible by public transport. But as Bob Birrell and Kevin O'Connor said of a similar concept in the Melbourne 2030 plan, "enterprises in manufacturing, research, warehouse, transport and related activities prefer land-extensive location where they can link into road transport to the docks, airport or interstate" (The Age, 22 March 2005).
The Herald's ideas would damage Sydney's suburban economy in this and other ways. Having hiked transport, water and power charges, for instance, the paper takes the knife to affordable housing as well. The campaign casually endorses "anti-sprawl" restrictions on the release of land for residential development, resulting in upward pressure on house prices. Other pro-environment measures like the Building Sustainability Index (BASIX) rules (partly warranted) and developer infrastructure levies will add to construction costs in the new "green-field" suburbs ($65,000 per lot!). If increased government borrowing feeds into higher interest rates, there's more bad news for the mortgage-belt.
End result: the inner-city reaps a jobs and public transport windfall while the rest of the city pays in higher prices, charges, levies and potentially higher interest rates. Not a bad deal for the Herald's readership.
It is easier to disdain outer-suburban workers if they are subjected to negative stereotypes. Emotive phrases like "energy guzzling McMansions" do the trick. Interestingly, that sneering term is rarely applied to the eastern suburbs or the north shore. Perhaps the Herald thinks westies are too uncouth to deserve nice houses. This anti-suburban prejudice veered to the absurd on 3 June, when Elizabeth Farrelly was trotted out for a rant. Posing as the supernanny of Sydney journalism, Farrelly called past tolerance of suburbanisation "total -indulgence parenting". In other words, people who choose to live in the suburbs are infantile. The whole debate about elite snobbery seems to have passed her by. She goes on to advance this remarkable theory of suburban development: "From the viewpoint of the power elites, dispersing the indigent of Chippendale and Surry Hills to the 'burbs not only reduced the likelihood of insurrection but also bulldozed a path for lucrative inner-city redevelopment". Does this sound a bit loopy? Perhaps, but Farrelly is the Herald's architecture and urban planning critic.
All of this adds up to a particular vision: a favoured echelon enjoys unearned privileges in the context of wider political authoritarianism and economic stagnation. Throughout, the Herald hankers for a "European-style city", but the city it dreams of vanished in 1989, when the wall came down.
TNC August 2005 _______________________________________________________________________ Top/Home